Using the freehand tool with the Point-to-Point option, make a selection of half of your image diagonally, (right & bottom half for her or left & top half for him).
Choose "Edit", "Copy" and "Paste as a New Selection"
Place the selection over the same area where you copied it from.
Now Choose "Image", "Mirror" and "Flip".
Zoom in on the image and check to see if the selection is placed at the proper corners and edges.
Choose "Selection", "Select All" and "Promote To Layer"
Crtl D to unselect and "Viola!" There is a His or Hers frame!
Click on the transparent area in the center with the selection tool and add a drop shadow to suit your tastes and add depth to the frame.  I added two to the Most Manly example, one at a plus (+) both horizontally and vertically and another at the same number but minus (-).
Clicking on the background layer of the layer palette, flood fill/decorate as you wish and add a new raster layer for the image you want in between the two...
And there you have it!  A beautiful frame just for her!
Apply the tutorial to the opposite sides when making your diagonal selection and you have a frame just for him!
Most Manly Example: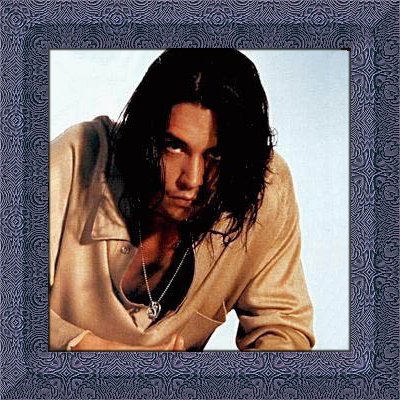 Tutorial not applied to this frame in order to allow you to see both sides.
Johnny Depp added especially for Kittie "Mreow!" *wink*